Kedy:
27. január 2018 @ 15:00 – 18:00
Europe/Bratislava Časová zóna
2018-01-27T15:00:00+01:00
2018-01-27T18:00:00+01:00
Kde:
Ungargasse 3
1030 Wien
Österreich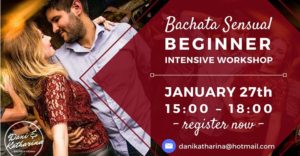 BACHATA SENSUAL Beginner Workshop
with Dani & Katharina
! Registration required – please read the information !
★ Registration:
– Facebook PM to: Dani & Katharina Bachata Vienna
– WhatsApp: 0676 4443414
– Email: danikatharina@hotmail.com
✫ limited spots ✫
★ About the workshop:
In only 3 hours you are going to learn the fundaments of Bachata Sensual, including: Basic steps, turns, body movements and a small combination of steps. With this class, you will be prepared to dance Bachata in parties and jump directly to the Improver Level.
✫ no knowledge of dancing required ✫
✫ no dance partner required ✫
★ Price:
35€ / 3 hours workshop
-5€ for registration with a partner
-5€ for students under 26
Payment via bank transfer
★ About the teachers:
Dani (Madrid, Spain) and Katharina (Vienna) met dancing Bachata in 2016, both having a lot of passion for the dance as well as fun in teaching.
They've been learning from artists all over Europe, participating in competitions in Spain, regularly visiting dance festivals and so bring a lot of experience in social dancing to their classes.
Now they teach Bachata together in Vienna, paying special attention to the right technique, musicality as well as enjoying the dance.