Kedy:
28. august 2017 @ 12:00 – 29. august 2017 @ 0:00
Europe/Bratislava Časová zóna
2017-08-28T12:00:00+02:00
2017-08-29T00:00:00+02:00
Kde:
Budapest Kizomba Connection
BKC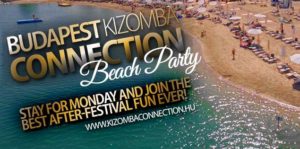 BKC OFFICIAL AFTERPARTY!!! This year we are going to the BEACH BABY!!! 🙂 Trust me, you don't wanna miss this one… The hottest fun BKC has ever prepared for you during these 7 years!
Join us for a day of relaxing, dancing and fun on the Best Beach of Hungary – The Lupa Lake or as we call it "Budapest Beach" 🙂 It is situated only 2km-s from the border of Budapest, so literally a Paradise on the edge of the City!!! Only 15km away from our BKC Venue (the Europa Ship)!
What is waiting for you there?
– Crystal clear blue water (Hungary's most cleanest lake)
– Sun, Sand, Cocktails, Beachboys, Bundas… 😉
– An Incredible Beach Bar with Incredible Sound System
– Our Superstar DJ-s and their TOP musical selection
– The BKC Team – some of your favorite artists and friends
– And the Unbeatable BKC Atmosphere!!!!!!!!!!!!!!!!!!!!!!!!!!!!!!!!
All you need to bring is your towel and smile, we take care of the rest… oh and bring some cashy too because they have some ice cream to die for, and really awesome street food and cocktail bars…. 😀
The LUPACABANA bar, that is going to host our event is currently under transformation, they are building a dancefloor just for us (ok, maybe not only) and it is going to look amazing! Pictures SOON!!!! A real tropical Paradise…
Check out the pictures and videos on the event wall that we gonna keep posting just to tease you… 😉 We are passionately in love with this place and wanna share this experience with all of you!!!
So, See You On The BEACH BABY!!!!!
THIS EVENT IS THE OFFICIAL AFTERPARTY OF THE 7th EDITION OF THE BUDAPEST KIZOMBA CONNECTION FESTIVAL. For the full program of the weekend and more information, please check out the official facebook event:
facebook.com/events/1822003931355183/
Or our webpage: kizombaconnection.hu
_____________ Some F.A.Q. _______________
Dresscode: do we need to say? 😀 Bikinis, trikinis, monokinis, boxers, shorts, tongs, grass skirts – whatever that makes you feel comfortable on the beach!!
Transport: This beach is literally on the edge of Budapest so it is easy to reach. Our guides will be available to help you get on the suburbain train that takes you almost right to the beach – where we gonna pick you up with our shuttles and take you to the lake. No worries, that train ride is an easy 30 minutes that gonna be real fun with your BKC mates 😉
Food & Drinks: It is possible to bring your own food and drinks to the beach, but they have all the kind of food that you imagine , available on Hungarian prices – which are super cheap, believe me… 😉 And what could be better than drinking Mojitos in our awesome Beach Bar?
Kids: Absolutely YESSS!!! Bring your little ones, they gonna have the time of their lives!!!
Price: We are currently still negotiating the conditions (€€€) but as soon as the agreement is closed, we are going to publish the prices and start pre-sales! You can expect a cost of ~10€ (entrance to the private beach equipped with everything that you need for an awesome day out on the sun, and shuttle transfer from the nearest train station to the beach)
In case of bad weather the program will be cancelled and other options will be arranged. We keep the right of changing any element of this program including the updating of the prices.
For more information write us an email: info@kizzme.hu
(Magyar info hamarosan)