Kedy:
14. apríl 2017 @ 21:00 – 15. apríl 2017 @ 2:00
Europe/Bratislava Časová zóna
2017-04-14T21:00:00+02:00
2017-04-15T02:00:00+02:00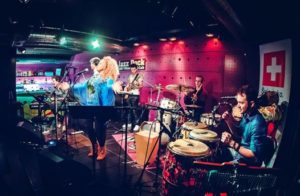 (please scroll down for information in English)
A Timbasa nevű formációt 2013-ban alapították azzal a céllal, hogy a hosszú éveken át – a világot járva és neves zenészektől tanulva – felgyülemlett tudást felhasználva tovább népszerűsítsék a fantasztikusan színes és gazdag kubai zenét. A repertoár egyaránt tartalmaz autentikus, tradicionális afro-kubai ritmusokat és modern latin jazz-t és egyaránt élményt jelent az igényes zenét kedvelők és a kubai táncok szerelmeseinek. Salsa, Timba, Jazz, Funk és afro-kubai folklór mind mind megszólal ezen a csodás estén.
Martha Galarraga a híres Conjunto Folklorico Nacional de Cuba tagjaként szerzett több éves tapasztalatot énekesként és táncosként egyaránt. Nem véletlen, hiszen Édesapja, Lazaro Galarraga az együttes alapító tagja volt és a mai napig a Yoruba énekesek legjobbjai között tartják számon világszerte.
A koncert után a helyszín átalakul a legforróbb havannai klubok hangulatát idéző táncparketté. Az itthon és a nemzetközi porondon is ismert DJ Dee és DJ T-Bee gondoskodik róla, hogy a legfrissebb kubai zenék és a klasszikus muzsikák is szerepet kapjanak az este folyamán
Az alábbi linken tudjátok elővételben megvenni a belépőket 1.500,- Ft-os áron.
jegy.hu/program/…
**********************************************************************
Timbasa was established in 2013. Salsa and timba group inspired by the masters of the contemporaneous cuban music (Isaac Delgado, Tirso Duarte, Los Van Van, Havana de Primera and others) has acquired new direction after years of studies of traditional cuban rhythms, that members of the group took in. But the most important change was above to come. The cooperation and arriving of the new member, the legend of afrocuban folklore, Martha Galarraga.
The repertory of the group is such a unique phenomenon on the czech and international music scene. Influenced by the afrocuban folklore, cuban rumba, jazz, funk and timba Timbasa offers an remarkabe musical experience.
Martica is the legend of afrocuban folklore and rumba in Cuba. Respected because of her knowledge, admired due to her talent and incredible energy.
As a member of Conjunto Folklorico Nacional de Cuba, the dancer and main singer, she continued the family tradition and the traditions of her ancestors. She became the expert in dance and cantos of the traditional styles of cuban music following the steps of her father, Lazaro Galarraga, one of the founders of Conjunto Folklorico Nacional de Cuba and one of the most respected singers of Yoruba all over the world. Martha excellently mastered styles such as Yoruba, Congo, Arará, Tumba Francesa, Franco Haitiano, Gagá, Cabali, Rumba, Son, Chachachá, Mambo or the world phenomenon, Salsa. Jazz, Funk and other styles are just the cherries on the top of the cake.
She has traveled through the world, amazed the audiences in many countries, worked with the artist such as Omar Sosa, Gustavo Ovalles, Felipe Cabrera, Simon Bolzinger and others…
…to find the group of talented artists with an insatiable interest in the roots of her culture.
After the concert we will transform the venue to match the hottest clubs of Havana. The internationally known and respected DJ Dee and DJ T-Bee will bring the newest salsa hits combining them with the best selection of classic songs to make you burn the dancefloor.
You can buy your tickets on the link below at a flat rate of 1.500,- HUF.
jegy.hu/program/…